Rethinking the IPM Program
As a result of in-depth and in-field interviews, we've unearthed some of your pain points to bring you a digital IPM costing tool that will help you to better manage your budget and resources.
Increase your IPM efficiencies and see the difference with civitas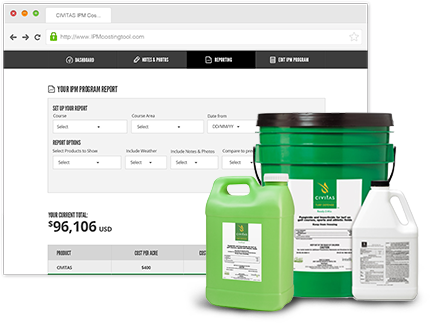 Plan For the Year Ahead
Whether you're protecting your turf or protecting your budget, being proactive is key. Manage your entire IPM program while tracking local weather and visually documenting performance.
Calculate Your IPM Costs
Manage your product inputs to monitor actual versus projected costs.
Tool benefits:
Make changes to your program on the fly
Get real-time feedback based on the updates you make to your course profile
See how your costs and inputs are impacted
Generate Professional Reports
We'll crunch the numbers for you and help you share your data through customized, easy-to-export reports that leverage the tool's note and photo-taking capabilities. Create reports in various formats instantly and generate high level overviews to evaluate specific product performance.
Capture Field Notes
Field notes can be added to each of your treatment in real time right from your smartphone, tablet or laptop. Include notes on treatment applications or images of course areas to track progress.
Healthier Turf is Stronger Turf